Sumtracker solves major pain points in inventory and business process management. We have worked with businesses in manufacturing, construction, distribution and retail. In all cases we found that communication between people and inventory movement mapping in the software are 2 major challenges. Sumtracker has innovative features which solves both these pain points. Some of our observations are:
90% of your business processes are not tracked
70% of your team doesn't know what is the most important task
85% of the delays are a result of miscommunication and internal inefficiencies
You need to personally ask 3 to 4 people to get to know what is the status of your orders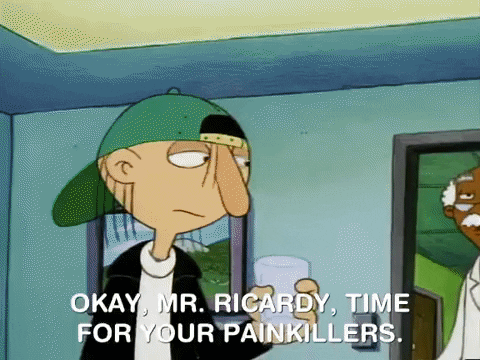 [Image Credit: via GIPHY]
Below are the major pain points we have found in businesses which we have solved with Sumtracker.
Do you use excel sheets to manage inventory?
Track all your inventory movement with accuracy. Sumtracker does exact mapping of your inventory movement in the software to get accurate numbers. You can track how much stock you have in each of your warehouse. Track how much stock has been ordered and how much stock is ready to ship to customers. Plan your inventory levels to decide purchase quantities.
Do you have to ask people to know the status of an order?
Sumtracker has very advanced order status tracking. You can track the order state if it has been sent to production. Get notified when the order is ready to be packed. Know the status if the order has been shipped to the customer. Track payment dues and charges for orders. You can assign orders to users and notify them to fulfil the order.
Are you able to track your job work orders?
In manufacturing it is difficult to track job work orders. Sumtracker lets you track how much raw material has been dispatched to the 3rd party job worker. Based on the total finished goods received the software will show you exactly how raw material is still left with the job worker and how much is the wastage.
Are you able to track inventory sent to construction sites?
Managing construction projects involves dispatch of materials to the construction sites. You can track material issued to the construction site against the BOQ. Track material consumed at the site. This will give the exact status of the project progress. And give you amount of material to be purchased to complete the project.
Do you rely on paperwork and emailed pdf files to share documents?
To manage operations and movement of goods, paper and electronic documents need to be shared with the right person. Sumtracker gives one click sharing of documents via the web and mobile apps. You can set automatic rules for sharing documents within the team.
Is your ERP system just a document printing tool?
ERP systems are known to be bulky and difficult to use. This is because they are built to do the paperwork. Most ERP system have too many modules which are not good at solving problems. Sumtracker is a collaboration software which solves communication, inventory and orders. Sumtracker has workflows which automatically sends notifications to the team. Specific use cases are built into the system to map inventory movement from the real world to the software.
Do you want to get daily reports on orders and production?
Decision makers need instant access to data. Sumtracker generates the most important metrics daily and notifies automatically. Reports are easy to read and understand. Data includes purchase and sales data. Inventory which needs to be ordered and daily tasks alerts.
Do you want to bring accountability to your team?
Each department in the supply chain needs to be accountable to each other. Purchase, sales, production, accounts all need to coordinate with each other. Sumtracker has features to set automatic notification rules. You can assign tasks and track the progress with automatic notifications and approvals. This reduces friction and improves productivity. Sumtracker gives a lot of importance to smooth and fast communication.
Are you able to track daily work done and your productivity?
It is very important to keep track of daily work done to identify the bottlenecks in supply chain. Sumtracker measures how fast orders are being processed. You can see which tasks are pending for long time and need to be finished on an urgent basis. Each team gets daily updates on tasks completed and pending. This keeps the whole supply chain productive and removes the delays caused by internal factors. You can communicate any external delays to your suppliers and logistic partners to improve their performance.